Rock'n'Roll Fantasy Camp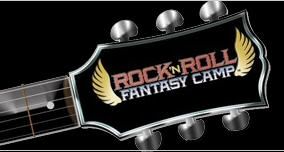 Seems that
Rock 'N' Roll Fantasy camp
is coming to NYC.
It's like the rockers are coming to Springfield:
Lenny Kravitz, Tom Petty, Elvis Costello and Brian Setzer have joined the lineup of guest voices for the season premiere of
The Simpsons
, which will air on November 10th. They join previously confirmed guests Mick Jagger and Keith Richards of the Rolling Stones.
In the episode, "How I Spent My Strummer Vacation" -- which kicks off the animated series' fourteenth season -- Marge sends Homer to a rock & roll fantasy camp to fulfill his dream of becoming a rock star.

Headlining Talent: Dickey Betts, Jon Anderson, Levon Helm, Joe Satriani, George Thorogood, Dr. John, MARK FARNER, Max Weinberg, Dee Snider.

Camp Counselors: Teddy 'Zig Zag' Andreadis, JACK BLADES, Gary Burr, Fred Coury, Spencer Davis, Sandy Genaro, Barry Goudreau, Kelly Keagy, Simon Kirke, Bruce Kulick, Michael Lardie, Jerry Renino, Mark Slaughter, Kip Winger, Peter Tork.

Really the only fantasy I have for being a rock star was all the groupies and the tawdry debaucherous times. I'm all about the Sex, Drugs, Rock'n'Roll part, especially for the screaming mimi groupies!!!
Cost: Full Camp: $8499, Add on Spouse Package: $499. (Umm unless she's a groupie... duh! and get your own lodging because it's not included!)
But of course to pay homage to the blog owner, there's got to be some Daltry videos.
Dropping in on rehearsing campers, Playing on stage with campers, and what Roger has to say about RnR Fantasy Camp

Sponsored by:


Link