Filipinos Represent!!!!
Okay, so maybe GWB has his issues, but we know he's going to get some comfort food... maybe some late night
TapSiLog
or some
lumpia shanghai
.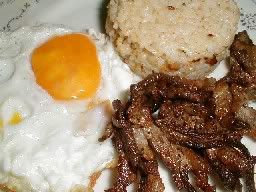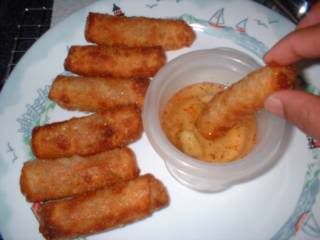 White House Hires First Woman Chef

(CBS/AP) Kitchen duties may have traditionally been viewed as women's work, but not at the White House. Until now: Cristeta Comerford has been named executive chef.

After an extensive six-month search, first lady Laura Bush announced Sunday that Comerford was chosen from hundreds of applicants to head the executive kitchen. A naturalized U.S. citizen from the Philippines, she will be the first woman and first minority to hold the post.

The 42-year-old Comerford has been an assistant chef at the White House for 10 years. She worked under former executive chef Walter Scheib III, who resigned in February.
And while he's at it, he should be listening to the
Black Eyed Peas,
Apl the Filipino hip hop singer from the group.
In the most offbeat selection in "Monkey Business," Apl.de.ap of Black Eyed Peas raps on a song called "Bebot" about the joys of eating with one's fingers, drinking with friends and a popular Filipino delicacy called balut.
I cannot believe that Balut is the celebrated in Hip Hop culture now...
Eat Balut

Believe it or not, in certain parts of the world, it's a custom to eat soft-boiled eggs containing partially developed duck embryos. Filipinos call them "balut." Here at Fear Factor we simply call them gross.

We knew that balut - also known as the "treat with feet" and the "eggs with legs" - would make for a great Fear Factor stunt. But the trick was in finding out where to get a hold of some here in Los Angeles.
yeah... I think they are gross to. Never eaten them and don't think that I ever will. There was one american friend we got to eat one during the "gym" days, convinced him to just open it up and pop it in his mouth. He exclaimed,"I feel feathers, a beak, feet..." Friends just cheered... "EAT! EAT! EAT!"
umm yeah... No thank you.