White Trash or Ghetto A/C
HOMEBREW AC
has instructions on how to build a simple heat exchange system for a fan. While I have lived in an attic in NJ during some of the hottest days of the early 90's, I never will live without airconditioning ever again, even if I had to make something like this... or like Mosquito Coast's ice machine/Air conditioner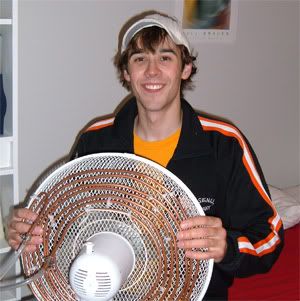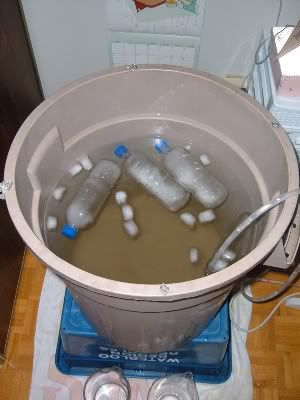 This got a bit more attention than I expected! Greetings to all visitors from
CTV's Canada AM
, The Record, CBC,
NPR
,
Slashdot
, and anywhere else I missed. Feel free to contact me at
gmilburn@gmail.com
.
My name is Geoff Milburn, and I currently attend the University of Waterloo in Ontario, Canada. I'm taking Civil Engineering, and tuition is a bit steep. As such, I have limited funds and a cheap house without air conditioning. To avoid dying this summer, I've built a primitive air conditioner. It's a basic heat exchanger, using water as the medium. You'll probably need to fiddle a bit with the dimensions of the supplies based on your resources and preferences.
Shameless plug: My next
coop
work term is January to April, 2006. Any engineering or financial firms looking for an intern with strong academic skills and the ability to implement his ideas in the real world, I'd love to hear from you.