Doo Doooooooo Bedoodoo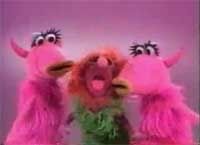 No matter how bad a mood you may be in, no matter how life has got you down. Clicking this link will make everything better.
MAHNA MAHNA
Impossibly catchy song (
get the mp3 here
), fluffy pink alien cows (apparently called "snowths"), dirty hipster scat-singing muppets, cameos by Kermit and
godfathers of snark
Statler and Waldorf
. Two and a half minutes well-spent.
I have always loved this goofy little song. So much so that back in our
Plastic
days Jason and I sought out the song's origins. Does the fact that "Mah Na Mah Na" was originally composed as part of the
score to 1970's swedish art-house porn
(link is perfectly work safe) diminish from its brilliance? I say no. I enjoy the fact that Henson was well aware of the song's origins when he decided to use it.
More Google goodness, a page tracking the
history of the Mahna Mahna character
(yes that's apparently the hipster vocalist's name) as part of a larger treatise on the
Hipsters v. Squares war
played out on the Muppet Show and Sesame Street.
Coming Soon, My in-depth history of "
Yakety Sax
" aka the Benny Hill "chase the naughty ladies around in double time" Music